The Latest

Our book on the butterflies of Joshua Tree is officially available, and the feedback has been fantastic. For the time being, I'm trying to avoid selling it on sites such as Amazon and would prefer to sell directly. It's also available at the Joshua Tree National Park kiosks (see above!), such as the one on Park Blvd., and will be available at a few other shops soon.
Click on the image above or here to order.
Written by Dr. Gordon Pratt, this book covers the National Park and environs. Legendary lepidopterist Dr. Paul Opler contributed the preface, and there are approximately 620 photographs; I contributed ca. 500 of them, designed the book, and oversaw the printing process. Joe Zarki - who worked for years at the National Park as a ranger involved in public education - added his expertise as the book's editor. Much of the research in both the field and lab involved the late Dr. John Emmel, whom Gordon worked closely with for decades. Photographs were also contributed by Gordon and Joe, as well as Jim Brock, Greg Ballmer, June Marjorie Pratt, Alice Abela, Greg Chatman and Gene Hanson.
Here's a sample spread that's pretty typical. There is a lot of information on larval food plants and the immature stages of 98 species. Besides an Introduction, there are also separate discussions of Euphilotes blues and the mormon metalmark complex in our area, topics on which Dr. Pratt is the leading authority. This project is something we've been working on for a few years, and we are happy with how it turned out. It's much more than just a guide, especially since Gordon sees butterflies as more than just the adult stage, and thus there is detailed information on the life cycle as a whole, strategies to get through the freezing winters and times of heat and drought, as well as the plant relationships crucial to each species. So while it is a useful guide for those seeking to identify butterflies in the Joshua Tree area (and there are a lot of tips on telling apart similar species), it is also a valuable resource for those who wish to go deeper. And, of course, much of what one learns about butterflies in this area will translate to butterflies elsewhere, even in our own backyards.
---

If you liked the t-shirt from the book signing/plant sale, I've put some options up here.
---

October 8, 2022 - At Joshua Tree National Park the other day I was able to find caterpillars of the little skipper called Pyrgus scriptura apertorum, the small checkered skipper, as well as those of Chlosyne californica, the California patch.

September 30, 2022 - Gordon Pratt asked whether I wanted to photograph Atlides halesus immatures that he had found on his property, and of course I did. So here is a Great Purple Hairstreak caterpillar, plus prepupae and a pupa.

August 27, 2022 - After a good day photographing purplish coppers near Lake Hemet, I decided to replace the photos on that page with the new ones. Thanks to Bruce Watts for the heads up that they were flying; I'd checked this spot a month or so ago without seeing any. I had to get there early enough to avoid imminent thunderstorms. I stopped at Cactus Spring Trail on the way back around noon and watched sprinkles turn into heavy rain in the desert heat.

May 8, 2022 - Found more variegated fritillaries from the New York Mountains. I've also added photos of the caterpillar of the Edith's checkerspot that flies around Big Bear, and caterpillars of Neumoegen's sagebrush checkerspot from Joshua Tree that I found on April 29th during the annual butterfly count there.

April 18, 2022 - Finally found the variegated fritillary, Euptoieta claudia, in the New York Mountains. Transient populations of this butterfly in this area are mentioned in the Emmels' 1973 book The Butterflies of Southern California.

April 10, 2022 - Here's a plant I've been looking for: Senna covesii. I also found larvae of the blue butterfly known as Icaricia icarioides evius, Boisduval's blue. This is a good time to check lupines for them, as they are exiting diapause and feeding before the upcoming flight (mid-May?). News about a book soon.

April 5, 2022 - Coming soon: first hint above.

March 27, 2022 - I've added photos of a few things. First, I've wanted to see Euphydryas chalcedona hennei at its type locality, Box Canyon in Anza-Borrego Desert State Park, for a long time and finally did. I usually see them at Cactus Spring Trail, but that is really more of a blend zone. Days later I headed to the Granite Mountains northeast of Apple Valley hoping for the local Indra there - fordi. I saw a single adult and got some good photos. The next day I went to the Mojave Preserve and found a couple of giant skippers - Megathymus yuccae martini.

February 17, 2022 - I have been busy with other projects - details forthcoming I hope - but thought I would share a photo from the Mojave Preserve. That's where I found quite a few Atlides halesus males hilltopping (and a female taking nectar at lower elevations). I'll put it here because that page doesn't need more images. I'm hoping for a good season in the deserts but we could use more rain soon. It was beautiful in the Mojave last Sunday. Species flying already besides Great Purple Hairstreaks were Anthocharis cethura mojavensis, Euchloe hyantis lotta, Papilio polyxenes coloro, and Pontia protodice.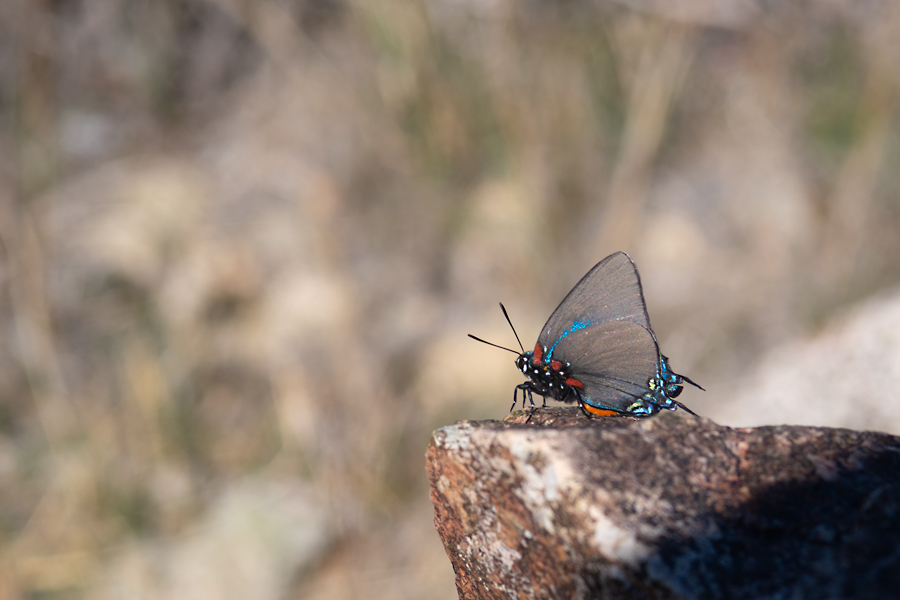 July 10, 2021 - Today I updated the page for the evius subspecies of Boisduval's blue - Icaricia icarioides evius.

July 9, 2021 - Updated the page for Icaricia saepiolus hilda and added a second photo to the Behr's hairstreak page. There's also a new photo of a fresh Lorquin's admiral up.

June 22, 2021 - Another butterfly I've waited a long time to photograph: Harbison's Dun Skipper. I found a male and a female, both in good shape, in San Diego County today.

June 7, 2021 - A silver-spotted skipper posed for me in the San Jacintos the other day. I've also revamped the Satyr Comma page with new photos of immatures.

May 21, 2021 - The monticola blues were out in Frazier Park, so I've revamped that page with new photos of this very photogenic blue and edited the text. The metalmark I hoped to find was, unfortunately, not flying.

May 12, 2021 - A small, rare blue called Euphilotes baueri vernalis has been an occassional target of mine since 2007, and I finally saw it northwest of Big Bear Lake in its best-known habitat near Coxey Meadow.

May 1, 2021 - I got one last April hike in at Keen Camp Summit and conditions were really good. The indra swallowtail was still patrolling the ridge. I found a pupa of Euphydryas chalcedona, which I needed; a last-instar caterpillar was on Penstemon spectabilis and this pupa was nearby. There are several species of blues along that trail, including western tailed-blue and melissa blue.

April 27, 2021 - It's been a very slow year due to a lack of winter and spring precipitation, but I had a good time in the San Jacintos during two outings recently. Last Saturday I came upon an Indra swallowtail (Papilio indra pergamus), which is a prized butterfly in southern California. That was while hiking along Keen Camp Summit road off Highway 74 in the San Jacintos. A week earlier, during a forest restoration project there, I got an improved shot of a male western tailed-blue.

October 7, 2020 - I got a better photo of a marine blue caterpillar, with the resulting pupa below it. I've added the caterpillar of Apodemia v. virgulti. I've also been raising western giant swallowtails lately, so there are new photos of caterpillars and a pupa on the Heraclides rumiko page (scroll down to see what's new).

September 23, 2020 - Some new things are up: an egg of a Marine Blue; a spiffed-up page for the Fiery Skipper, which I'm going to try to rear from eggs; and new shots of the Mallow Scrub Hairstreak.

September 1, 2020 - Another revamped page: the Queen. I recently found and raised a caterpillar I found on Asclepias subulata in Palm Desert, so that's new. The Queen caterpillar is one I've been after for some time, and this one didn't disappoint, growing rapidly as I documented it day after day.

July 29, 2020 - Several pages have been changed, or at least had photos added. See the pages for Dione incarnata (gulf fritillary), Junonia grisea (buckeye), Apodemia mejicanus deserti (desert metalmark) and Phoebis sennae marcellina (cloudless sulphur).

July 10, 2020 - Spent a few days in the field and have added a few photos. First, I was in the sprawling Mojave National Preserve, specifically the New York Mountains, on Thursday and came upon some nice Callophrys siva siva taking nectar on an acacia tree. A day earlier I was in Wildhorse Meadow south of Big Bear, where I saw another Thicket hairstreak - Callophrys spinetorum. And earlier today I photographed the chrysalis of a Papilio rutulus (western tiger swallowtail) I've been raising. The larva is there too just above it. I feel I could add a few dozen more, but the pages for so many species just don't need more photos.

June 19, 2020 - I picked up a painted lady caterpillar with some of the lupines it was eating because I wanted to photograph it as a pupa. Here is the larva and pupa, from Rim of the World highway not far from the high school.

June 14, 2020 - I've added another Thicket hairstreak - Callophrys spinetorum - after a great day along the Sugarloaf Trail in Big Bear. I had at least 23 species but the sheer number of butterflies was astounding.

June 13, 2020 - Just put up both an egg and a third-instar caterpillar of the Pale Swallowtail, both found in the last 24 hours in different places.

May 26, 2020 - I made a couple more trips to Joshua Tree NP and things were looking pretty good at Lost Palms wash, though it feels spring has yielded to summer in terms of plant and butterfly succession. All the way up the wash among the palms, which apparently aren't really "lost" after all, I found nice-looking and cooperative Wright's metalmark flying with California patches and lots of Queens.

May 20, 2020 - Two more caterpillars: Pontia beckerii on host bladderpod (Peritoma arborea), and Apodemia mejicanus deserti on desert trumpet (Eriogonum inflatum). These are from a hike up into Lost Palms wash in Joshua Tree NP.

May 14, 2020 - It was cloudy in the coast ranges, but along Davis Road just a few miles south of highway 46 I found a larva of the fall-flying mormo that uses Eriogonum nudum var indictum. Good thing I brought my tripod, because this thing was tiny. This is what all the mormo-complex larvae look like - they aren't really separable at this stage. Incidentally, the place you turn to take Davis Road from the highway is just about where 24-year-old James Dean was killed when his Porsche 550 Spider was hit by another car in 1955.

May 9, 2020 - In the New York Mountains within the Mojave National Preserve I saw my second Chlorostrymon simaethis sarita in five days. My target was Erynnis brizo burgessi, which I was happy to get within moments of parking my car for a hike up Caruthers Canyon. That's another new one to the site. Another good butterfly from that day was the black form of the desert swallowtail, Papilio polyxenes coloro, form clarki. It's not fresh, but it's still a cool butterfly. I've also added a photo of the larva of Anthocharis lanceolata desertolimbus that Gordon Pratt was kind enough to give me the other day.

May 3, 2020 - I had an eventful couple of days looking for butterflies. On Friday I was seemingly alone in the Kingston Range looking for Euphydryas chalcedona kingstonensis; I wanted it from the place it was originally described. When I found a good wash with the right host plant, I began to see the butterfly. At the same time, there was plenty of California buckwheat there, and I realized that the Bernardino blues there must be another target of mine: Euphilotes bernardino martini. So that was great - two targets in one hike. The next day I participated in a butterfly count in Joshua Tree National Park with Joe Zarki (the park is currently closed to the general public), and we had the good fortune to encounter a rare stray from Mexico: a single Chlorostrymon simaethis sarita taking nectar on mule fat. There are reports about these in Arizona as well, so it's one of those special years when this little hairstreak wanders far from its natural habitat.

April 29, 2020 - A new addition: the Desert Elfin, Callophrys fotis mojavensis from the Mojave National Preserve. It's basically a butterfly of the Mojave desert, from the eastern California ranges into Nevada and Arizona. On the same hike, I found a beautiful leanira alma hilltopping. I've added a Siva hairstreak from that hike as well. I'd only seen that one in Arizona, so it was good to encounter it in California. I got a long flyby from the endangered Indra subspecies that flies there - martini. A good look was all I could manage, though. It was just north of the Providence Mountains in the Mid Hills area visiting a ravine in the afternoon. That was yesterday; the day before, I headed to the Ord Mountains in Hesperia and from there drove up to Coxey Meadow. As a result, I've completely redone the page for Apodemia virgulti mojavelimbus. The Ords are its type locality (the place from which it's described).

April 23, 2020 - A Chlosyne leanira alma was hilltopping along a ridgeline along Cottonwood Pass southwest of Las Vegas. This one is more boldly marked than the one I saw in the Kingston Range. I also revised the page for Apodemia mejicanus deserti, adding a couple of recent photos from the Kingston Range and Cottonwood Pass.

April 16, 2020 - With better weather, the butterfly activity is picking up in the far reaches of southern California. On April 11th, I was in the Mojave Preserve again - my fifth trip there this season. Anthocharis thoosa was still flying, and I've added a female and a ventral shot to that page. The next day I was in Blythe, at the Palo Verde Ecological Reserve; check out the additions to the Hesperopsis gracielae page. That was the "easy" drive. I headed out early the next morning determined to get photos of Glaucopsyche lygdamus deserticola, which I'd seen several times on the 11th but only had a few blurry shots to show for it. I really wanted the female, and with some patience a nice, fresh blue posed in the cool desert air. The Teutonia Peak trail off Cima Road was wet from good rains the night before, but the sun was shining and the wind was still. A Euchloe lotta also looked to be freshly-emerged. A good day so far, but I had time to get to the Kingston Range and see whether Euphydryas chalcedona kingstonensis was flying at its type locality. This was my first time there, and I was surprised that the road was paved as far as I intended to go: about 19 miles up Excelsior Mine Road. Along the way I stopped several times to see what was taking nectar at the abundant roadside flowers. Castilleja chromosa there was lush, and I was really excited to finally see my first Chlosyne leanira alma - an unexpected highlight of an already-good day. I scoped out the canyons, but little was on the wing there. I stopped at Afton in the afternoon and did some reconnaissance at a spot I'll be revisiting later in the year for a rare skipper. The next day, Cactus Spring Trail provided something of a day off, though I aborted the hike due to the number of hikers. A highlight was the tiny Pyrgus scriptura apertorum in the spot I've often found it, but I don't think I need to update that page here. The popular trails are something I avoid - too risky. I thought I'd be nearly alone on a weekday, but by the time I left there were 15 cars at the trailhead. Yikes. The next day, I headed home from Palm Desert to Long Beach, and decided to detour up the 62 to the 247 and see whether I could improve my old Euphydryas chalcedona corralensis photos. Turns out, yes, I could.
So that's the "short" version of the last several days' adventures. I'm getting ready to get back out there and get after more of the eastern Mojave species I've long planned to experience. It's a pretty solitary endeavor, staying by myself in the desert and venturing out to remote areas. But I'm staying away from other people in this weird time of social distancing. The roads are wide open, gas is cheap, and I have a new engine in my car. The desert is warming up and coming to life. The vistas are stunning - with the rain and lack of air pollution, these remote eastern desert ranges provide some jaw-dropping views. Interesting times.

March 30, 2020 - Euphilotes speciosa - the Small Blue - was flying at In-Ko-Pah gorge on the 28th (well, at least one was). These are a sought-after butterfly that I was happy to get and specifically targeted for the day. It's been a busy March, with several long day-trips. But going alone to "the middle of nowhere" feels not only safe with the coronavirus beginning to rage but also helps me get a sense of normality. I plan to get a few more trips to the Mojave in and to explore several other exciting and remote spots as well in this strange April that awaits us.

March 23, 2020 - Added a good ventral view of Pontia sisymbrii nigravenosa from the Providence Mountains.

March 19, 2020 - I found an Anthocharis thoosa, similar to the Sara orangetip, flying in the Providence Mountains a few days ago. In Joshua Tree National Park, I got some nice shots of what can be called Euchloe lotta or E. hyantis lotta - the desert pearly marble.

March 7, 2020 - Took a long day-trip into the Mojave National Preserve on March 3rd. It was cold and there wasn't much to see, but I did get one species I needed: Pontia sisymbrii nigravenosa. I also have added photos of both the larva and pupa of Hesperia juba (scroll down), which Gordon Pratt was kind enough to give me. Things have been perhaps a bit slower than I'd hoped after good early rains, but I'm getting optimistic after the past couple of days. It's still early, and more rain is in the forecast.

January 30, 2020 - The first butterflies of the year have emerged (no photos yet, though!). While Cactus Spring Trail is still basically dormant, the lower elevations immediately south of Palm Desert are warming up. While getting some exercise on the Henderson Trail - accessed from the parking lot of the Santa Rosa and San Jacinto Mountains National Monument Visitor Center on highway 74 - I was somewhat surprised to see a lone Painted Lady. A little later, a Sara Orangetip appeared; I wasn't expecting one as early as January 27th. Back in town, a Large Orange Sulphur and some more common butterflies were just getting the year started. Rain has been good so far this winter, and the coming year looks promising.