The Latest
Here is a pdf for those looking for information about our book on the Butterflies and Skippers of Joshua Tree National Park. To order, click here. If you have questions, email me at denbugg AT hotmail.com.
---

May 29, 2023 - Went to Santa Barbara and San Luis Obispo counties and found a new one for me: the small blue from the Lompoc area named Euphilotes speciosa purisima. While I was leaving there I noticed a west coast lady ovipositing on apricot mallow, so I got some photos of the egg. I've been photographing caterpillars of what I'm reasonably sure are west coast ladies, but in the early instars especially they are easily confused with painted ladies, so I'll rear them to adults to be sure. I probably have scores of photos of both species from the last month, and I'm interested in the differences of their immature stages, so I should have something on that here eventually. After getting the small blue in Lompoc, I moved on to the Elfin Forest in Los Osos, San Luis Obispo County. There I found a few fresh Satyrium saepium caliginosum, which are on the local ceanothus shrubs, a subspecies with a very limited distribution. I've seen something close to these a few miles inland but this is the real deal. I also visited Gordon Pratt and came home with some goodies; I've been updating some pages as well, so check out the Sara orangetip page, which now has all four stages; the Behr's hairstreak (not really updated except that I added a cool caterpillar); and the desert black swallowtail, to which I've added the brown-form pupa.

May 7, 2023 - Lots going on in our deserts and the mountain foothills. I've updated the page for the gray marble - Anthocharis lanceolata australis - with a shot from Seven Oaks near Big Bear from a recent daytrip. I've also changed out the photos and revamped the page for the dainty sulphur - Nathalis iole. I added photos of an egg and a chrysalis as well.

April 5, 2023 - Updated the page for Neumoegen's sagebrush checkerspot. So far things look to about a month behind out in the deserts, but things are picking up.

March 17, 2023 - This promises to be a fantastic year for butterflies in southern California due to the regular rainstorms we've been getting. When it warms up I expect to be out regularly, particularly in the deserts. In the meantime, here is a chrysalis of the desert black swallowtail, given to me by Gordon Pratt the other day. This species of swallowtail was hilltopping at Cactus Spring Trail early in February during a relatively warm period. Caterpillars of checkerspot Euphydryas chalcedona had also emerged to resume feeding on the Keckiella. But just as the area was beginning to stir, a new wave of storms and freezing temperatures hit the area. But April to June should be fantastic there.
---

Our book on the butterflies of Joshua Tree is officially available, and the feedback has been fantastic. For the time being, I'm trying to avoid selling it on sites such as Amazon and would prefer to sell directly. It's also available at the Joshua Tree National Park kiosks (see above!), such as the one on Park Blvd., and is also available at several other small bookshops.
Click on the image above or here to order.
Written by Dr. Gordon Pratt, this book covers the National Park and environs. Legendary lepidopterist Dr. Paul Opler contributed the preface, and there are approximately 620 photographs; I contributed ca. 500 of them, designed the book, and oversaw the printing process. Joe Zarki - who worked for years at the National Park as a ranger involved in public education - added his expertise as the book's editor. Much of the research in both the field and lab involved the late Dr. John Emmel, whom Gordon worked closely with for decades. Photographs were also contributed by Gordon and Joe, as well as Jim Brock, Greg Ballmer, June Marjorie Pratt, Alice Abela, Greg Chatman and Gene Hanson.
Here's a sample spread that's pretty typical. There is a lot of information on larval food plants and the immature stages of 98 species. Besides an Introduction, there are also separate discussions of Euphilotes blues and the mormon metalmark complex in our area, topics on which Dr. Pratt is the leading authority. This project is something we've been working on for a few years, and we are happy with how it turned out. It's much more than just a guide, especially since Gordon sees butterflies as more than just the adult stage, and thus there is detailed information on the life cycle as a whole, strategies to get through the freezing winters and times of heat and drought, as well as the plant relationships crucial to each species. So while it is a useful guide for those seeking to identify butterflies in the Joshua Tree area (and there are a lot of tips on telling apart similar species), it is also a valuable resource for those who wish to go deeper. And, of course, much of what one learns about butterflies in this area will translate to butterflies elsewhere, even in our own backyards.
---

October 8, 2022 - At Joshua Tree National Park the other day I was able to find caterpillars of the little skipper called Pyrgus scriptura apertorum, the small checkered skipper, as well as those of Chlosyne californica, the California patch.

September 30, 2022 - Gordon Pratt asked whether I wanted to photograph Atlides halesus immatures that he had found on his property, and of course I did. So here is a Great Purple Hairstreak caterpillar, plus prepupae and a pupa.

August 27, 2022 - After a good day photographing purplish coppers near Lake Hemet, I decided to replace the photos on that page with the new ones. Thanks to Bruce Watts for the heads up that they were flying; I'd checked this spot a month or so ago without seeing any. I had to get there early enough to avoid imminent thunderstorms. I stopped at Cactus Spring Trail on the way back around noon and watched sprinkles turn into heavy rain in the desert heat.

May 8, 2022 - Found more variegated fritillaries from the New York Mountains. I've also added photos of the caterpillar of the Edith's checkerspot that flies around Big Bear, and caterpillars of Neumoegen's sagebrush checkerspot from Joshua Tree that I found on April 29th during the annual butterfly count there.

April 18, 2022 - Finally found the variegated fritillary, Euptoieta claudia, in the New York Mountains. Transient populations of this butterfly in this area are mentioned in the Emmels' 1973 book The Butterflies of Southern California.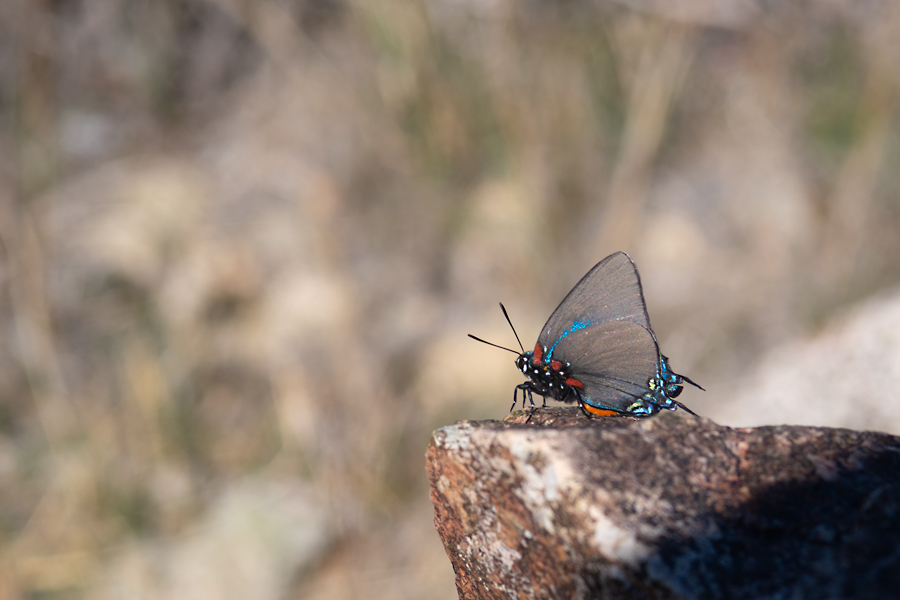 April 10, 2022 - Here's a plant I've been looking for: Senna covesii. I also found larvae of the blue butterfly known as Icaricia icarioides evius, Boisduval's blue. This is a good time to check lupines for them, as they are exiting diapause and feeding before the upcoming flight (mid-May?). News about a book soon.

April 5, 2022 - Coming soon: first hint above.

March 27, 2022 - I've added photos of a few things. First, I've wanted to see Euphydryas chalcedona hennei at its type locality, Box Canyon in Anza-Borrego Desert State Park, for a long time and finally did. I usually see them at Cactus Spring Trail, but that is really more of a blend zone. Days later I headed to the Granite Mountains northeast of Apple Valley hoping for the local Indra there - fordi. I saw a single adult and got some good photos. The next day I went to the Mojave Preserve and found a couple of giant skippers - Megathymus yuccae martini.

February 17, 2022 - I have been busy with other projects - details forthcoming I hope - but thought I would share a photo from the Mojave Preserve. That's where I found quite a few Atlides halesus males hilltopping (and a female taking nectar at lower elevations). I'll put it here because that page doesn't need more images. I'm hoping for a good season in the deserts but we could use more rain soon. It was beautiful in the Mojave last Sunday. Species flying already besides Great Purple Hairstreaks were Anthocharis cethura mojavensis, Euchloe hyantis lotta, Papilio polyxenes rudkini, and Pontia protodice.