Guides
You can't tell the players without a program. For many of these players, you'll need several programs. Years ago I relied on one guide: the old edition of the National Audubon Society Field Guide to North American Butterflies (since improved). I now look back at some of the (mis)identifications I made, based on my limited information and my fuzzy photographs, and I laugh. Now I have a much better camera and lots of guides (and more experience) and I can usually figure out what's what thanks to the newer guides. It doesn't help that there are quite a few butterflies whose taxonomy is in question. But for the butterflies you are likely to encounter, these guides will help you put a name to what you've seen. If you're an absolute beginner (and live in Southern California) I would get two books to start: Fred Heath's book and either the Kaufman guide or Glassberg's book.
---
An Introduction to Southern California Butterflies, Fred Heath with photographs by Herbert Clarke, 2004. A good general introduction to our area's leps for beginners.
---
California Butterflies, John S. Garth and J.W. Tilden, 1985. Has some valuable information on specific locations and subspecies; I find myself using this book now as much as I ever did, though it could stand a revision.
---
The Butterflies of Southern California, Thomas C. Emmel and John F. Emmel, 1973. A classic, and still helpful in many ways, especially when used in tandem with the publication below.
---
Lepidoptera of North America 15. Butterflies of southern California in 2018 : updating Emmel and Emmel's 1973 Butterflies of southern California, Ken Davenport. Available as a free pdf here. Packed with important information for the more-serious butterfly aficionados. Excellent for flight times and locations, with discussions of the status of pretty much every butterfly taxon as well as segregates.
---
Butterflies and Their Favorite Flowering Plants: Anza-Borrego Desert State Park and Environs, Lynn and Gene Monroe, 2004. A thorough book on a fantastic place to look for butterflies. For each species they have usually provided a photograph of the larval food plant, which is a great idea. Information on locations within the area for each species as well.
---
The Butterflies of San Diego County, Kojiro Shiraiwa, Lulu Press, 3rd edition 2012. From the author: "Introduction and identification guide for the butterflies of San Diego County, California. The book contains full color figures of butterflies found in San Diego County for easy identification. The book also discusses butterfly biology and ecology. This is a kind of pictorial book - great for kids as well as general public."
---
Peterson Field Guides: Western Butterflies, Paul A. Opler with paintings by Amy Bartlett Wright, 1999.
---
Kaufman Focus Guides: Butterflies of North America, Jim P. Brock and Kenn Kaufman, 2003. Revised in 2006. A nicely-produced guide for identification (and a true 'field guide'). Illustrates various forms (regional, sexually dimorphic, seasonal, etc.), which can be very helpful.
---
Butterflies Through Binoculars: The West. A Field Guild to the Butterflies of Western North America, Jeffrey Glassberg, 2001. For the tough identifications, it helps to have this on hand as well. Glassberg is the president of the North American Butterfly Association.
---
The Butterflies of North America: A Natural History and Field Guide, James A. Scott, 1986. A storehouse of information about the biology, ecology, life cycle, food plants, etc. of butterflies. The detailed text makes this a good purchase even today; few will probably use it as a 'field guide.'
---
Other books
Systematics of Western North American Butterflies, Ed. Thomas C. Emmel, 1998. From Mariposa Press in Florida. A mammoth collection of papers, many of which describe new subspecies in California, such as the 'hidakupa' Moss's Elfin from the San Gabriels, and the Mormon Metalmark from the sand dunes near the Los Angeles Airport (and many more - there are scores of them). Also an important revision of the Euphilotes blues. A big book for true enthusiasts. I find myself referring to it often.
---
A Catalogue of the Butterflies of the United States and Canada, Jonathan P. Pelham, 2008. Volume 40 of The Journal of Research on the Lepidoptera. This is more than an up-to-date checklist to subspecies level (which is nice in itself). For each butterfly there is a lot of information, including type locality, where the types are deposited, and where the original description of the butterfly is published. This is a big reference book (over 650 pages) packed with information. Hardcopy available from BioQuip; but updated and free online here.
---
The Butterflies of North America: A Natural History and Field Guide, James A. Scott, 1986. A storehouse of information about the biology, ecology, life cycle, food plants, etc. of butterflies. The detailed text makes this a good purchase even today.
---
Lepidoptera of North America: 3. Butterflies of Kern and Tulare Counties, California, Ken Davenport, 2014. Ken has decades of experience in this region, and his detailed information on each butterfly to subspecies level is a terrific resource. No photos, just facts. After a good introduction, he provides for each butterfly date ranges for both Kern and Tulare Counties, then discusses distribution. In a subsequent section, he provides numerous records (location, date, collector) for every butterfly. Spiral-bound. Available as a pdf here. This url changes, so if the link breaks, try google.
---
Flora of the Santa Ana River and Environs, Oscar F. Clarke et al., 2007. A beautifully-produced overview of the flora of the Santa Ana watershed. Clear photos of hundreds of plants and trees organized by family.
---
California Desert Flowers: An Introduction to Families, Genera, and Species, Sia and Emil Morhardt, 2005. A worthy companion to the previous book, as this one covers the desert side of the mountains. Lots of good photography and the text is very informative. But no buckwheats?!
---
Nabokov's Butterflies, Ed. and Annotated by Brian Boyd and Robert M. Pyle, 2000. My favorite novelist was also a dedicated and serious lepidopterist. This book contains pretty much everything he wrote involving butterflies, including correspondence. He spent many summers on long, often eventful, road trips. The chapter from his autobiography (Speak, Memory) is worth the price of admission; it may be the most famous piece of writing about butterflies. To someone like me, this is 782 pages of pure bliss. Nabokov first sparked my interest in butterflies.
Nabokov's Blues: The Scientific Odyssey of a Literary Genius, Kurt Johnson and Steve Coates, 1999. Nabokov was not merely a dabbler or enthusiast. His arrangement of the blue butterflies in the 1940s, largely ignored for decades, was revived some 50 years later after a series of discoveries in South America.
---
On the Wings of Checkerspots: A Model System for Population Biology, Eds. Paul R. Ehrlich and Ilkka Hanski, 2004. The intensive study of one species over four decades by academics in California and of a related butterfly in Finland yielded a mountain of information, aspects of which the 15 papers collected in this volume present. Warning: written by academics.
---
The Development and Evolution of Butterfly Wing Patterns, H. Frederik Nijout, 1991. Written for a well-informed (academic) audience, but fascinating nonetheless even for an amateur (like me).
---

Photography Links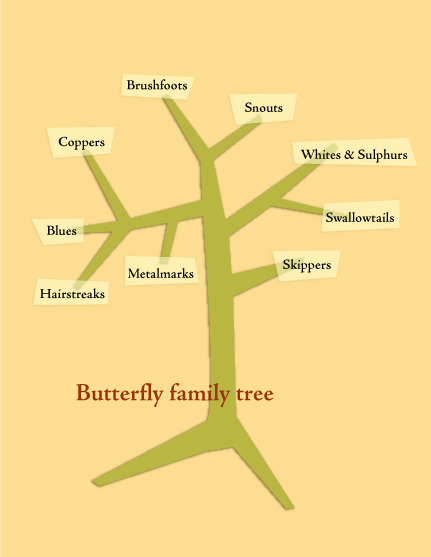 Butterflies of America
An ambitious project that has become an unparalleled resource.
Raising Butterflies
An interesting and informative site from Utah's Todd Stout.
Nicky Davis' Wild Utah
I've used this site particularly for the caterpillar photos. Incredibly sharp photography.
David S. Horner
David is a fellow denizen of the southland who photographs butterflies locally.
Bill Bouton
Mr Bouton is a nature photographer with some excellent butterfly photographs, including many local species.
---
Detailed Species Information
Besides the Butterflies of America site mentioned above, check out the Butterflies and Moths of North America (BAMONA) Site. It was recently updated and is well worth exploring.
---
Orange County Butterflies
This is from Larry Orsak's 1977 book, and the detailed information on locations is especially valuable.
---
Organizations and Listserves
The best listserve covering our area recently moved and is now here:
DesertLeps
It has a range of contributors, from newbies to serious academics.
---
Plants
Wildflowers of the Santa Monica Mountains
This helped me a lot as I got to know these mountains.
Heap's Peak Arboretum - San Bernardino Mountains
Also very helpful for identifying plants.
CalFlora
More difficult to just browse through, but when you need detail, this is a great site.
Las Palitas Nursery
A unique, spawling website packed with information on native plants, and a great nursery for the butterfly gardener.
Matilija Nursery
Native plant source in Moorpark, CA.
This page updated October 2019