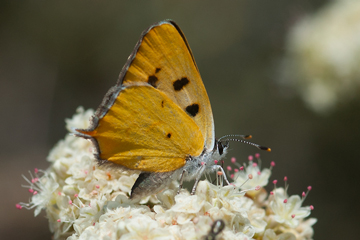 The Latest

May 1, 2017 - Had a few days off, so I headed out to the desert again to take a longer look at Cactus Spring Trail, which I did on Thursday and Friday, and on the way back on Sunday I stopped at a new spot for me: the Whitewater Preserve in the San Gorgonio Wilderness, managed by the Wildlands Conservancy. This is the same organization that manages the Bluff Lake preserve, one of my favorite places to visit.
Not far along Cactus Spring Trail, I came across the distinctive larva of a Spring White (Pontia sisymbrii). Butterflies were plentiful; I've mostly been adding only new things to this site but I took nearly 500 photos; here's one of a butterfly that isn't new but it's one I'm always happy to see: Papilio polyxenes coloro.
I got something new at Whitewater by following a Becker's White as it oviposited on its host plant, bladderpod, which is common there. The egg photo is about as good as I'm likely to get in the field without a tripod.

April 25, 2017 - Back on March 3rd, I found a larva of Euphydryas chalcedona hennei that had attached itself to a leaf on Cactus Spring Trail. Returning nearly 4 weeks later, I saw that the butterfly had emerged.

April 22, 2017 - Cactus Spring Trail is really fantastic right now after all the winter rains. Within moments of getting out of my car at the trailhead, I'd seen several species of butterfly and came upon a last instar larva of Papilio polyxenes coloro, the Desert Swallowtail. Several adults were out as well. I've seen some "firsts" for this particular trail this spring, including this Sleepy Orange - Abeis nicippe. The usual suspects were out in abundance and the plants are doing better than they have in years. It's been good to see creeks running that have been dry the last several years.
Introduction
Nearly all these photographs of butterflies and their host plants were taken either in my garden, the local park, or (most often) in wild areas within a few hours of my home in Long Beach, California. Butterflies are a life-long interest of mine, and I started photographing them seriously beginning in the summer of 2005. I've listed on six pages - one for each family represented locally - all the butterflies in my area (to subspecies level) and their larval host plants, with links to pages I've created for each butterfly. Some of these are rarely seen and a few are even endangered species, and thus a challenge to find and photograph, but I've included them on the list if they fly in this region. In fact, the challenging butterflies are often the most interesting. There are, of course, various difficulties with creating a comprehensive list to subspecies level, and so it tends to evolve as I learn more or with taxonomic changes.
In my garden I may see fifteen or so different species in a typical year (I've seen twenty-five species there over the years). But by day-tripping to various places no more than a few hours' drive from my house, I can multiply this number many times over. In fact, there are 239 taxa that I've listed for our area (this number is growing as I add Kern County butterflies). The lists on this site are all of these butterflies - those I'd like to photograph that are in my area or a 'reasonable' drive from where I live. My goal is eventually to see and photograph them all (183 as of May 2016), as well as their host plants. Some that are very rare or only occasionally stray into our area are common in Arizona, and I've included a few photographs from there.
Southern California is an incredibly diverse place to explore and enjoy the natural world. Mountain forests, beaches, wetlands, grasslands, deserts, meadows, even islands - all are within easy reach with their various lepidopterous inhabitants. I've learned to appreciate these places, and I hope my photographs help convey some of the richness of our native flora and fauna.
Feel free to e-mail me: denbugg at hotmail dot com.
Acknowledgments
Thanks to everyone for all the help and encouragement I've received over the years. Special thanks to John F. Emmel, Jim Brock, Ken Davenport, Bill Gendron, Gordon Pratt, Fred Heath, Koji Shiraiwa, John Pasko, Chris Henzlik, Mark Walker, David Horner and Andrew Kim for particularly valuable help with identifications, locations, suggestions, etc.